Since the TDSA Housing Sub-Committee formed back in February 2016, we have produced various documentation in order to share information to developmental service agencies regarding accessing affordable and supportive housing.  Here are the documents which were produced in 2017. 
2017_____________________________________
TDSA Housing Forum held on November 29, 2017

Here are copies of the presentations from the event:
Art Matthews – Salvation Army Broadview Village: Future Residential Mapping
Bryan Keshen – Reena: Intentional Community Consortium Model
Frances MacNeil – Community Living Toronto: TDSA Housing Sub-Committee Update
Michael Bach – IRIS – Institutes for Research and Development on Inclusion and Society: My Home My Community
Michele McMaster – Canada Mortgage & Housing Corporation: Ontario Affordable Housing Centre & National Housing Strategy Overview
Stephanie Malcher – Shelter Support and Housing Administration: Home for Good Toronto
Creating Inclusive Communities 

Build Toronto Inc., in conjunction with Toronto Developmental Services Alliance, PooranLaw Professional Corporation and Kehilla Residential Programme, hosted an interactive session entitled "Inclusive Housing Design" on May 10, 2017. The purpose of the session was to discuss the opportunities and challenges of intentionally designing safe, affordable, barrier-free and inclusive housing to meet the needs of marginalized and vulnerable populations, such as those living with developmental disabilities.
The goal of this initiative is to determine opportunities for building new mixed income apartment or condo housing in mixed communities that include people with developmental and other disabilities, with amenities that encourage social interactions between all residents. This session was intended to be the first step in the setup a solid framework of design, policy and financial guidelines that will result in the successful implementation of concepts in all future mixed community opportunities. Various working groups have been set up to address means to meet these goals. 
Click here to view the Inclusive Housing Event Paper from May 10, 2017
TDSA Housing Sub-Committee Housing Brochure September 2017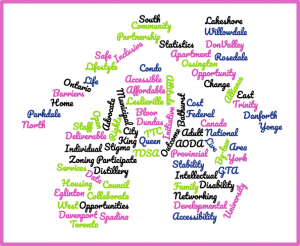 The TDSA Housing Sub-Committee created a brochure focused on affordable, barrier-free, supportive and inclusive housing as a quick way to provide information to those who may be interested in learning more about the topic. It is a document packed with information focusing on key housing issues affecting the developmental service sector. 
Click here to link to the TDSA Housing Brochure
Sneak Peak at TDSA Geo-Mapping Project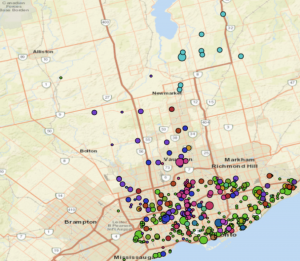 In July 2017, the TDSA HSC reached out to it's members to collect relevant housing related data regarding the types of housing supports and services they provide. The aim of this project was to be able to identify gaps in services across the city, as well as view any locations where there may be potential to share/coordinate services. Geo-mapping these services creates a visual picture for where there may be gaps, but also identifies areas for potential housing developments and partnerships. 
This project is still being finalized, however here is a quick example of how we are able to map various agency housing-related services across Toronto and the GTA.