Since the TDSA Housing Sub-Committee formed back in February 2016, we have produced various documentation in order to share information to developmental service agencies regarding accessing affordable and supportive housing.  Here are our documents that have been produced in the 2018 year. 
2018                                                                                  
TDSA Housing Forum held on November 30th 2018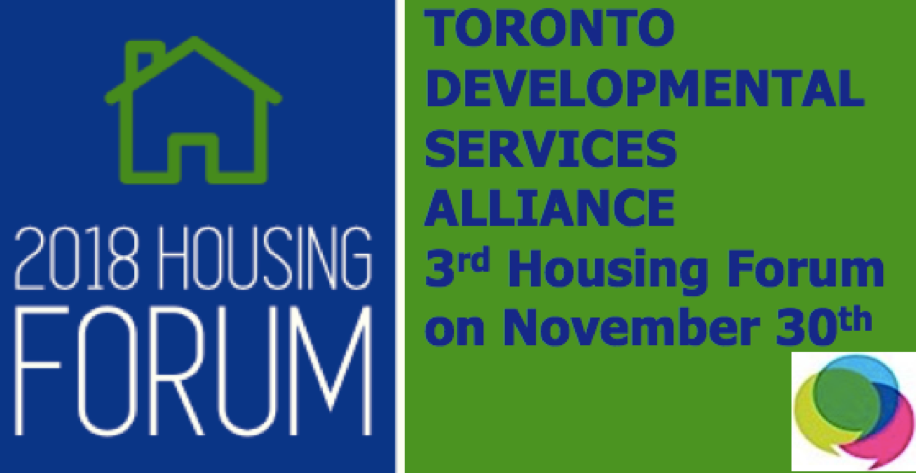 Here are copies of the presentations from the event: 
List of City Councillors and MPPs for TDSA agencies – September 2018
The intention of the One Page Summary (below) is for TDSA member agencies to utilize it to advocate to Toronto City Councillors and MPPs about housing issues faced by the Developmental Services sector. This is a list compiled of contact information for current City Councillors and MPPs,  based on the main office locations for TDSA member agencies. 
Click here to access this list. Note: this list is current as of December 2018 and includes the updates City Council Members from the October 2018 election. 
One Page Summary of Key Issues – June 2018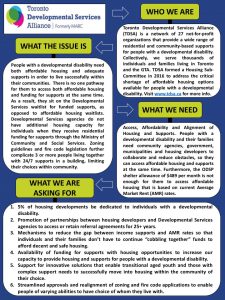 The Housing Sub-Committee created a one-page document summarizing the key issues regarding affordable housing for individuals with developmental disabilities. This document also describes 'What We Need' and 'What We Are Asking For' to advance housing for our sector.
Click here to access this document.
TDSA Housing Sub-Committee 2017-18 Summary Report – April 2018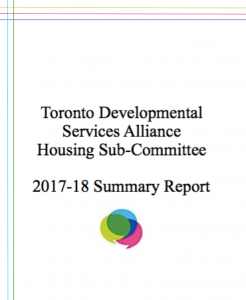 This report summarizes the work of the TDSA Housing Sub-Committee for the fiscal 2017-18 year. It includes the work that has been completed to date, TDSA recommendations for increased living options for people with a developmental disability, areas of interest for future housing developments and the focus for the Housing Sub-Committee for the upcoming year. 
Click here to download a copy of the report. 
TDSA Housing Sub-Committee Presentation to the Developmental Services Housing Task Force – March 2018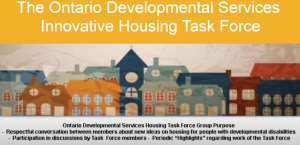 The Housing Task Force asked TDSA to present on the recent work of the Housing Sub-Committee, as well as provide an update on any current engagement and future considerations of the Sub-Committee. Click here to be provided a copy of the presentation.
Geographic Mapping Report – March 2018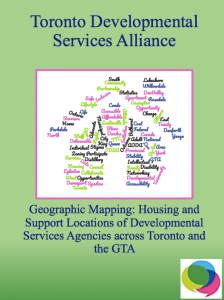 TDSA reached out to Developmental Services Agencies across Toronto to gather information about the locations and types of housing services and supports they offer within Toronto and beyond.
The intention was to be able to identify where Developmental Services agencies have numerous housing and support locations, and where there are areas with minimal agency involvement. This has the potential to aid in helping agencies enhance personalization of services and supports to their clients.
Click here to download a copy of the report. 
2017 Housing Forum Report – February 2018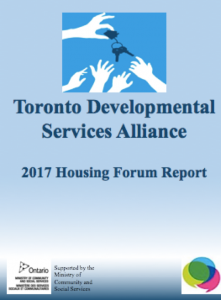 The TDSA held a Housing Forum on November 29, 2017, where various speakers presented on the issue of affordable and supportive housing. Following these presentations, discussions were held with attendees regarding their perspectives of current housing challenges and solutions.
TDSA then created this report that provides an overview of TDSA work to date, summarizes the Housing Forum presentations and discussions that were held, as well as provides recommendations to address the current housing challenges that were examined. 
Click here to download a copy of the Housing Forum Report. 
TDSA Meeting with Minister Jaczek's Office – January 2018

In January, the TDSA was able to have a meeting with the Hon Helena Jaczek's Office, who is currently the Minister of Community and Social Services (MCSS). TDSA drafted a briefing note, which was provided to Minister Jaczek's office for reference and review. Click here to have access to the briefing note that was provided.