Since the TDSA Housing Sub-Committee formed back in February 2016, we have produced various documentation in order to share information to developmental service agencies regarding accessing affordable and supportive housing.  Here are the documents which were produced in 2016. 
2016                                                                                   
The Affordable and Supportive Housing Information Guide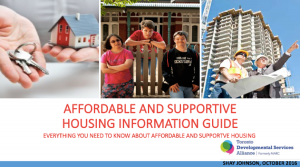 This  64 slide presentation is meant to provide an overview about affordable and supportive housing that is easy to understand, while covering a wide scope of resources and topics.
The goal is to have readers feel more informed about the issue of affordable/supportive housing from a local context, while also gaining an understanding of housing models for vulnerable populations from an international perspective.
While the topic of housing is very broad, this guide is to be used as a starting point to build knowledge and to feel more confident tackling the issue of affordable/supportive housing. 
Affordable Home Ownership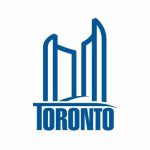 Since 1992, the City of Toronto has helped more than 1,100 households achieve their goal of home ownership. The TDSA created a quick fact sheet about Affordable Home Ownership and who may be eligible. Click the link below to download this document:
TDSA Affordable Home Ownership Fact Sheet
Or simply visit the City of Toronto website and learn about its Affordable Home Ownership partners:
City of Toronto Affordable Home Ownership Programs
Literature Review: Housing and Persons with Developmental Disabilities
In October 2016, the TDSA Housing Sub-Committee produced a brief literature review entitled The Impact of Housing and Homelessness on Persons with Developmental Disability.